From WordsRated:
Amazon was initially founded as a bookselling platform in 1995. Since then, the company has gone through massive changes, becoming the world's biggest retail company in which bookselling represents just a fraction of profit.
However, even in the book sales sector, the company dominates the book publishing industry with an upwards trend, threatening to overtake the market in the future completely. On the other hand, the company did a lot of positive things for the book industry, such as the emergence of self-publishing accessible to anyone. In this report, we'll cover all the aspects of Amazon's book publishing business.
Amazon book sales
Even though Amazon's book sales make up only 10% of the company's profit, they are still the biggest seller of books in the United States and worldwide.
Amazon generates around $28 billion worldwide from book sales every year. The company is responsible for over 50% of sales from the Big Five publishers and controls between 50% and 80% of the book distribution in the United States.
Amazon sells at least 300 million print books every year.
The company reportedly controls at least 40% of the print book sales in the States.
Some estimates show that by 2025 Amazon could take over more than 70% of the US print book market.
In the UK, Amazon controls at least 50% of the market, selling over 106 million copies each year.
When it comes to ebooks, Amazon is dominating the market by a wide margin.
Amazon sells over 487 million ebooks through Kindle every year.
The company's market share in ebook sales stands at least 67%, climbing to 83% when Kindle Unlimited is included.
Amazon is estimated to control over 87.9% of yearly ebook sales in the UK.
Even though the company sold more ebooks than print books in 2011, nowadays, Amazon sells 3x more print books than ebooks.
Self-publishing on Amazon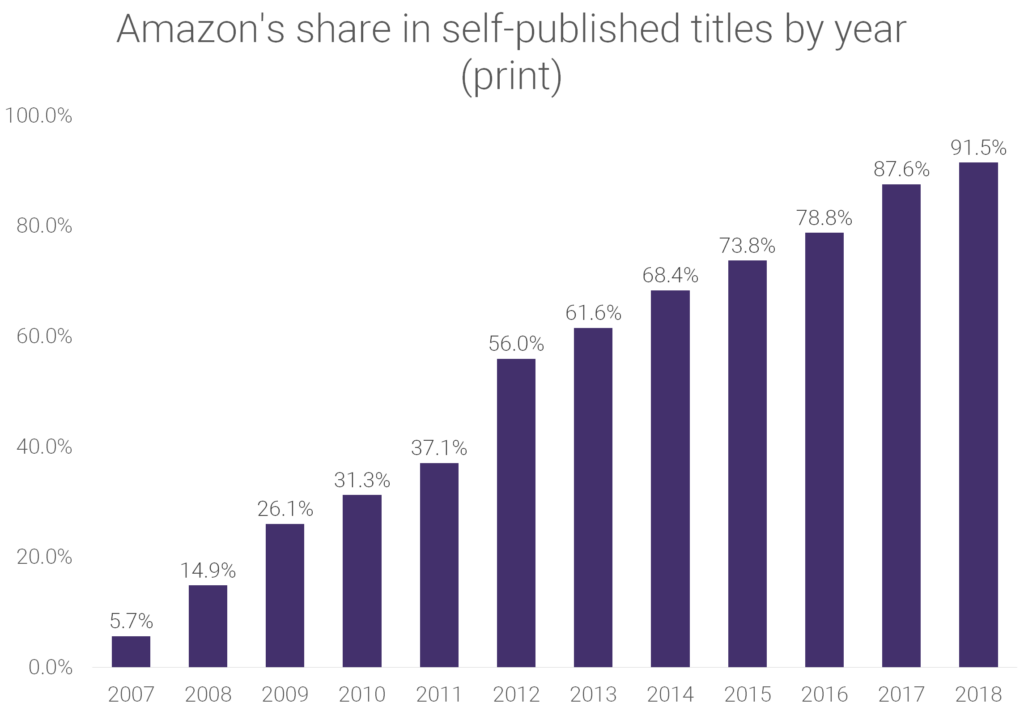 Amazon has been the driving force behind the massive emergence of self-published books in the United States:
Amazon releases over 1.4 million self-published books through its Kindle Direct Publishing every year.
This doesn't even take into account self-published ebooks with no registered ISBN number, so the extent of Amazon's self-publishing figures is much higher.
Kindle Direct Publishing is regarded as the largest ebook publisher of self-published ebooks, even without official numbers available.
Amazon pays over $520 million in royalties each year to over 1 million authors who decided to self-published through KDP.
Only 1% of audiobooks on Audible are self-published
Self-published books account for 31% of Amazon's ebook sales
Self-publishing authors have the option to publish their work in 40 languages.
…
Amazon's Royalties Paid to KDP Authors
Link to the rest at WordsRated